Report -15th March 2008
Maresfield vs Keymer & Hassocks
Div 3
K & H overcame a very stiff second half challenge to beat Maresfield 2-1 away.
They felt reasonably comfortable in the first half which saw Jon Ruffle run onto a splendid Jo Davey pass-his well struck shot was saved by the keeper at full stretch but the ball came back off the post and he made no mistake second time around.
Maresfield responded with clever use of their quick attackers but Troy Raftery and Fin Fogarty proved a match for them.
K & H felt they could hold their lead and perhaps add 1 more after the break but it was Maresfield who quickly gained the upper hand applying a sustained period of pressure to the visitors defence.They nearly equalised with a fine effort against the bar before finally getting their reward with a scrambled effort after K & H failed to clear their lines.
Gregor Ross worked tirelessly in midfield to turn the tide but it appeared a draw was the likely outcome until K & H MOM James Handford went on for the last 20 minutes-he made an immediate impact and was on hand to convert a Gregor Ross pass from a tight angle in the dying seconds.
Player Quotes:
"If we hadn't of won i'd of probably knocked him out!" - Ben Watson talking about Spud.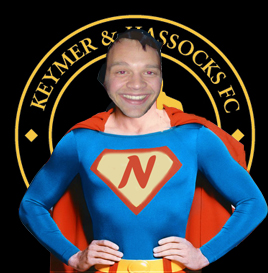 "He's my hero" - James Emmens